My wife and I love visiting nude beaches and resorts. We have been trying to compile a list of nude beaches and resorts across the United States and to visit as many of them as possible. So this begs the question, what is available for Alabama nude beaches and resorts?
While there are no public Alabama nude beaches available, there are a lot of options available to nudists. There are some good Alabama nudist resort options available. Additionally, there are a lot of nudist options within a short travel distance of Alabama.
So let's take a look at the options to be naked in Alabama. We will look at the nude beach options, the Alabama nudist resorts, and some travel options for nearby nudist locations.
Alabama Nude Beaches and Resorts Table
The table below contains the available options for Alabama nude beaches and Alabama nudist resorts:
| | | | |
| --- | --- | --- | --- |
| Name | Location | Type | Type/Notes |
| GYMNO-VITA PARK, LLC | Pell City, AL | Resort | Naturist Nudist |
| Parksland Retreat | Talladega, AL | Campground | Naturist Nudist |
| Bluff Creek Falls | Steele, AL | Resort | Men Only Nudist |
| Wildwoods Hideaway | Eutaw, AL | Resort | Men Only Nudist |
| Lizard Landing Camp | Columbia, AL | N/A | Permanently Closed |
From the table above, you can see that Alabama has fairly limited options, especially for a warm-weather state. Unfortunately, there are no public Alabama nude beaches.
This being said, there are some Alabama nude resorts that cater to naturists. So if you want a chance to just let it all hang out there are options. Personally, we like the easy access to amenities and comforts that the nudist resorts give us.
The weather in Alabama would make these nudist spots enjoyable for most of the year. This means that residents of Alabama can get a lot of use out of any resort membership that they purchase.
Additionally, there is another type of nudist out there that is quite different than the naturist nudist. If you are interested in taking a walk on the wild side check out The Other Type of Nudists: Swingers Resorts in Alabama section.
Alabama Nude Beaches
Alabama has public laws on the books that make it difficult to have a nude beach. According to findlaw.com, Alabama has two separate exposure laws that can both result in jail time. In short, I do not recommend going nude in Alabama unless it is at a legitimate nudist resort.
If you just feel like you need to go nude in Alabama (and who doesn't), I would suggest checking out the Alabama nude resorts section below. It may not be a sandy beach, but sitting naked poolside with a drink in your hand will sure help things out.
If you really need to check out a nude beach, you are in luck because neighboring Florida has some of the best nude beaches in the country. Check out the Top 7 Florida Nude Beaches for information on these beaches.
Alabama Nude Resorts for Naturists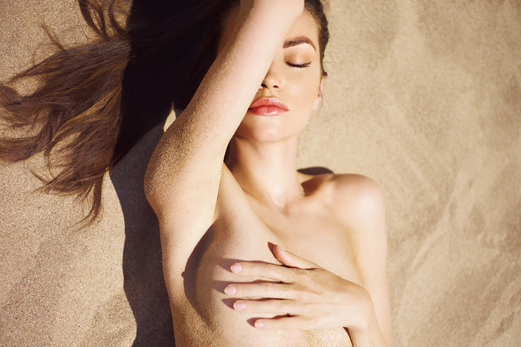 When it comes to being naked in Alabama, nudist resorts are our favorite way to go. It is so relaxing to just hang out with all of the amenities that these places have to offer.
These Alabama nude resorts and campgrounds are for naturists. They are family orientated so public sexual activity is discouraged. These can be very relaxing spots to visit and just get the ultimate downtime in the buff.
Be sure to check out additional nudist resort opportunities in neighboring Florida, Tennessee, Mississippi, and Georgia.
GYMNO-VITA PARK, LLC
826 Seven Bark Road
Pell City, AL 35128
http://www.gvpark.com/
GYMNO-VITA PARK is a family-orientated naturist park. Only couples and families can use the facilities here. They are open from April 1 through the 3rd weekend of October.
Amenities here include a 5000 sq foot lodge, swimming pool, bathhouse, volleyball, horseshoes, mile-long nature trail, children's play area, and campsites.
This resort receives very good reviews only and is easily the best Alabama nude resort naturist spot.
Membership is $60 per year for a family or a couple. Ground's fees are $30 per day for members and $40 per day for non-members.
Overnight accommodations are available. Rooms are $50 per night, RV camping is $45 per night, and tent camping is $30 per night.
Parksland Retreat
1313 Germany Mountain Rd,
Talladega, AL
(256) 589-5427
https://linktr.ee/ParkslandRetreat
Family-friendly clothing option naturist retreat. Very few amenities but reportedly a very beautiful area. Reservations are made through AirBNB with links from their website.
Alabama Nude Resorts for Men Only
These Alabama nude resorts are primarily for gay men and do restrict their membership to men only. These are definitely not family-friendly nudist resorts as families are not welcome.
Bluff Creek Falls
1125 Loop Road,
Steele, AL 35987
(205) 405-6080.
https://bluffcreekfalls.com/
Bluff Creek Falls is a 21+ clothing-optional camping resort for gay men. Entrance to this campground is for members only.
They feature a bunch of amenities tailored to their clientele. Amenities at Bluff Creek Falls include a covered pavilion, hot tub, a pool, barrel sauna, Cruising Trails, Sling Barn w/Sling, and Glory Wall.
Annual membership is only $20. Day passes are $10 for most days and $15 for holidays.
Camping starts at $12.50 per night for the primitive campsites. RV sites start at $25 per night. They have numerous cabins with various rates but most run from $75 to $100 per night.
Wildwoods Hideaway
7975 County Road 181,
Eutaw, AL 35462
(205) 860-0836
https://wildwoodshideaway.com/
Wildwoods Hideaway is an 18+ clothing-optional camping resort for gay men. Membership is required for this resort.
This resort has a ton of amenities including an outdoor kitchen and bar, 2 hot tubs, 2 saltwater pools, and an outdoor pavilion.
This resort is highly rated and many say that it is the top men's resort in the state.
Membership prices range from $25 per day up to $750 per year with additional options in between. Day passes start at $17 on weekdays and go up to $32 per day on holidays.
Wildwoods Hideaway has campsites starting at $17 per night, RV sites that start at $35 per night, and rooms starting at $60 per night. There is a couple of cabin options that range from $69 per night up to $145 per night.
The Other Type of Nudists: Swingers in Alabama
When someone is looking for Alabama nudist resorts, it is important to take into account what you are looking for. A traditional naturist nudist resort is a completely different experience from a swinger clothing optional resort. Going to the wrong type may lead to some unexpected surprises for you.
In a nutshell, naturists nudists look at nudity as a natural state of being that is not tied to sex. Therefore these places can be family-orientated and sexual activity is not encouraged or allowed. Swingers look at nudity as being totally about sexuality. Sexual activity is allowed and encouraged.
You can read Naturist or Swinger Nude Resorts and Beaches for details on the difference.
You will find that nude beaches and nudist resorts tend to be geared towards naturists. Swinger resorts are definitely for the swingers.
This article is geared towards Alabama nudist resorts but if you are more interested in the swinger experience you can check out Alabama Swinger Clubs and Swinger Resorts.