Over the last few years, my wife and I have visited nudist spots across the country. Connecticut is a wonderful ocean state that could have some beautiful nude beaches and nudist resorts. So what is available for Connecticut nude beaches and Connecticut nudist resorts?
Connecticut does offer a few options for nudist resorts. These are not the big resorts you will find in Florida but they provide a great opportunity to go nude in Connecticut. Unfortunately, there are no Connecticut nude beaches and limited beach opportunities in this area of the country.
So let's take a look at what is available for Connecticut nude beach options, Connecticut nudist resorts, and Connecticut nudist clubs. You will find that this state has something to offer the Connecticut nudist.
Connecticut Nude Beaches
Unfortunately, there are no active Connecticut nude beaches. Like most New England states, the laws are not nudity friendly.
The law in Connecticut makes it illegal to go nude at any of the public beaches in the state. According to the website findlaw.com, Connecticut law defines public indecency as:
"Public indecency consists of any of the following acts in a public place:
An act of sexual intercourse
A lewd exposure of the body with intent to arouse or to satisfy the sexual desire of the person
A lewd fondling or caress of the body of another person."
Going nude in public may put you in violation of these laws and you should keep this in mind before going nude.
There are some unofficial nude beaches in neighboring New York, Massachusetts, and Rhode Island but once again these are not legal nude beaches.
I would rather go to a Connecticut Nudist Resort where I could legally go nude instead of running the risk of getting arrested. It is much more relaxing being naked when you are not worried about the cops showing up.
If you really want to check out some great nude beaches, I would hop on a flight down to Florida and check out the amazing Florida Nude Beaches.
Connecticut Nudist Resorts
There are a few Connecticut Nude resort options available. My wife and I are big fans of nudist resorts and that is definitely our favorite way to spend time in the nude. The idea of a Connecticut nude beach is great but when it comes down to it sitting poolside can be so much better.
When at a resort the Connecticut nudist gets access to all of the amenities like the heated pools, hot tubs, bathrooms, etc. But more importantly, when you are at the resorts you chance to actually meet and make friends with other Connecticut nudists.
Trust us when we say that there is no better way to go nude in Connecticut than to hang out at these resorts. In addition to these resorts, you can find more nudist resorts in nearby New York, Massachusetts, and Rhode Island.
Sun Ridge Resort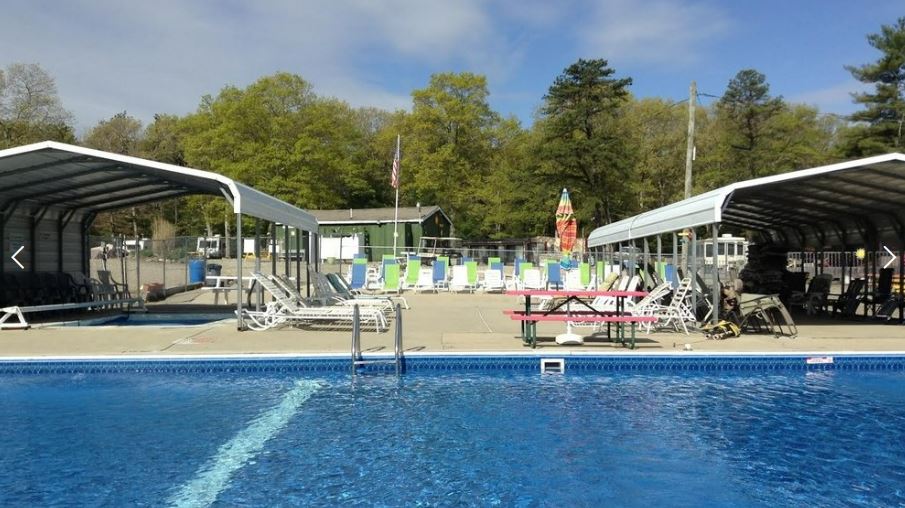 131 Calvin French Rd
Sterling, CT 06377
(860) 779-1512
https://sunridgeresortct.com/
A family-friendly naturist resort located in Sterling Connecticut near the Rhode Island border. They are open seasonally from May to October. This 42-acre property has a number of amenities including hiking trails, a heated pool, a large hot tub, volleyball, tennis, a pavilion with billiards, and more.
Reviews of this resort by Connecticut nudists are generally very positive with an average of about 4.5 out of five stars. Most reviews focus on friendly staff and visitors. Most negative comments focus on the lack of facilities.
Day fees for this resort are rather high at $60 to $70 per day for singles or couples. The hours for day passes are only 9:30 to 5:30.
Overnight accommodations are available for couples only.
Tent sites are available for $25 to $30 per night. RV sites are available for $30 to $40 per night. Cabin rentals are available for $132 to $185 per night. Day fee payment is required in addition to overnight fees. Rates are from the 2022 season.
Solair Recreation League
65 Ide Perrin Rd
Woodstock, CT 06281
(860) 928-9174
https://www.solairrl.com/
A top spot to go nude in Connecticut, Solair is a family-friendly naturist nudist resort located in Woodstock Connecticut near the Massachusetts border. Their website lists the following amenities, "A family-oriented nudist resort where hundreds of visitors each season enjoy Solair's
Solar-heated swimming pool
Sandy pond beach
Boating and fishing
Tennis and pickleball
Volleyball
Shuffleboard
Hot tub
Children's playground
Café
Hiking trails
Free WiFi
Plus dinners, dances, children's activities, and other social and recreational events held rain or shine in Solair's Community Center and outdoor pavilion."
Reviews of Solair seem to be overwhelmingly positive. Most review sites give this location between 4 to 4.5 stars out of five.
Most of the resort is clothing optional but nudity is required at the pond, pool, and hot tub.
They offer an introductory fee of $35 for each of the first four visits. After the introductory rate, there are a number of membership options with fees that greatly vary but it is $60 for nonassociated people.
Accommodations include tent sites that require membership from $25 to $30 per night. RV sites also require membership and are $35 per night. Cabin rental rates run from $70 to $100 per night. All fees are from the 2022 season.
Naturist Clubs in Connecticut
There are no active local nudist clubs in Connecticut but you may find some in the neighboring states. There is also the national American Association for Nude Recreation.
American Association for Nude Recreation
1703 North Main St. Suite E
Kissimmee, FL 34744
Phone: 800-879-6833
This national organization offers tons of information for nudists/naturists in the USA. Membership also gets you discounts at many nudist locations.
The Other Type of Nudists: Swingers in Connecticut
When someone is looking for Connecticut nudist resorts, it is important to take into account what you are looking for. A traditional naturist nudist resort is a completely different experience from a swinger clothing optional resort. Going to the wrong type may lead to some unexpected surprises for you.
In a nutshell, naturists nudists look at nudity as a natural state of being that is not tied to sex. Therefore these places can be family orientated and sexual activity is not encouraged or allowed. Swingers look at nudity as being totally about sexuality. Sexual activity is allowed and encouraged.
You can read Naturist or Swinger Nude Resorts and Beaches for details on the difference.
You will find that nude beaches and nudist resorts tend to be geared towards naturists. Swinger resorts are definitely for the swingers.
This article is geared towards Connecticut nudist resorts but if you are more interested in the swinger experience you can check out Connecticut Swinger Clubs and Swinger Resorts.