Over the last few years, my wife and I have visited nudist spots across the country. New Jersey is the Garden State but what if you like working in the garden in the buff? So this begs the question, what is available for New Jersey nude beaches and resorts?
A New Jersey nudist has numerous excellent options to spend some time naked. New Jersey nude beaches include top-rated Gunnison Beach. This is one of the few official public nude beaches available in the USA. New Jersey nudist resorts have multiple highly rated locations.
So let's take a look at all that New Jersey has to offer. We will look at New Jersey nude beach options and New Jersey nudist resort options. This state has some of the best options in this area of the country.
New Jersey Nude Beaches and Resorts Table
The following table contains the options for New Jersey nude beaches and New Jersey nudist resorts:
| | | | |
| --- | --- | --- | --- |
| Name | Location | Type | Notes |
| Gunnison Beach | Middletown, NJ | Beach | Fully nude public beach |
| Sunset Beach (unofficial nude beach use at your own risk, see notes) | Lower Township, NJ | Beach | Unofficial Public Beach |
| Rock Lodge Club | Stockholm, NJ | Club/Resort | Naturist nudist |
| Sky Farm Inc | Basking Ridge, NJ | Club/Resort | Naturist nudist |
| Goodland Country Club | Hackettstown, NJ, | Club/Resort | Naturist nudist |
From the table above, you can see that there are quite a few options to go nude in New Jersey. Considering that this is a cold-weather state, the options are not that bad.
Congratulations to every New Jersey nudist as New Jersey was named the nation's No. 1 state for nakedness.
The highlight of New Jersey nude beaches is Gunnison Beach which is one of the top nude beaches in the country. In addition, there are some top-rated New Jersey nudist resorts. New Jersey offers some awesome options to explore the nudist lifestyle.
If you are researching the nudity lifestyle, then I suggest checking it out for yourself. My wife and I have found that this lifestyle is very fun and we have met so many awesome people. Be sure to check it out at a place that fits your interest whether that is naturist or swinger.
New Jersey Nude Beaches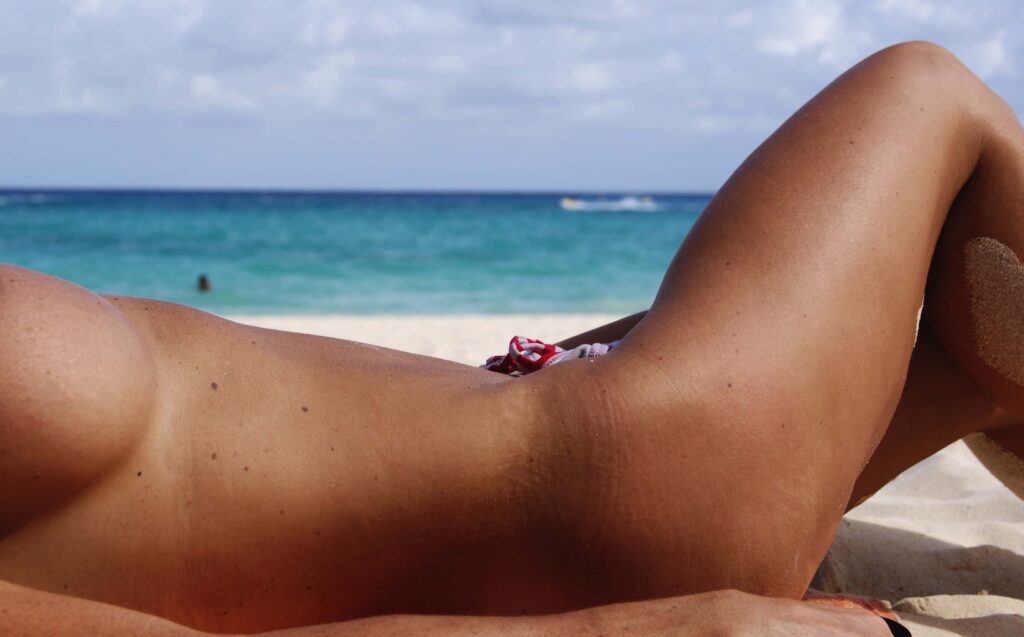 If you live in New Jersey, you have access to one of the best nude beaches in the United States. Gunnison Beach is an extremely popular nude beach and nudity is officially allowed there so there are no worries about running into trouble with the law.
There are some unofficial nude beach locations in New Jersey but users should be really cautious. I do not recommend unofficial nude beaches especially when there are some legal options available. You can check out findlaw.com for more information on New Jersey public indecency laws.
Public nudity including women being topless is illegal in New Jersey so I would be really leery about going to any unofficial nude beaches. A lot of law enforcement officials are willing to look the other way but there is no guarantee of this.
Some great alternatives to New Jersey nude beaches include New Jersey nudist resorts. These resorts can give you some legal alternative places to soak up the sun in the buff.
If you are set on visiting some great nude beaches year-round, I would recommend checking out Florida Nude Beaches for some of the best nude beaches in the country.
Gunnison Beach
Middletown, New Jersey
Website
New Jersey nude beaches include the world-famous Gunnison Beach.
Gunnison beach is the largest nude beach on the east coast of the United States. The only beach that is even close to it in size and popularity is Haulover Beach in Florida. It has a great view of New York City and is very popular in the summer months.
This is one of those rare beaches where it is not only socially acceptable but also legal to take it all off and enjoy the sun in the buff. You can find close to a thousand nude sunbathers here on a hot summer day.
You will find all different ages and body types here so do not be bashful about baring it all.
Visiting Gunnison Beach is free. Use parking lot G in the Fort Hancock area of the Sandy Hook Unit of Gateway National Recreation Area.
If you live in this area, you have to give Gunnison Beach a try. It is a must-visit for any nudist.
Sunset Beach
Lower Township, New Jersey
Other New Jersey nude beaches are unofficial nude beaches which means that the nudity is illegal and you use than at your own risk. People do get tickets or arrested here and I would not personally risk it.
An example of this is Sunset Beach in Lower Township, NJ. Apparently, a lot of people still utilize this beach to get a few naked rays.
There are numerous articles that you can find detailing how the Higbee Beach section is still used by many for nude sunbathing. Most articles mention that the beach is popular with gay and naturist beachgoers.
New Jersey Nudist Resorts for Naturists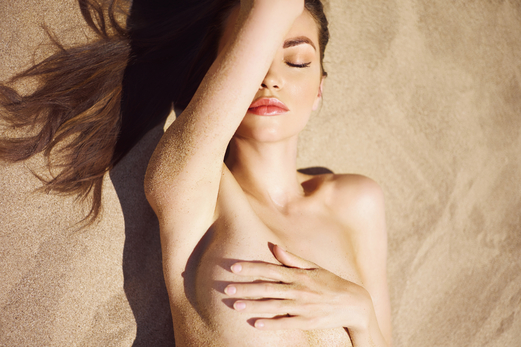 These New Jersey nude resorts and campgrounds are for naturists. They are family orientated so public sexual activity is discouraged. These can be very relaxing spots to visit and get the ultimate downtime in the buff.
If you are new to the nudist lifestyle, these resorts can be an excellent way to have your first experience.
When at a resort the New Jersey nudist gets access to all of the amenities like the heated pools, hot tubs, bathrooms, etc. But more importantly, when you are at the resorts you chance to actually meet and make friends with other New Jersey nudists.
Trust us when we say that there is no better way to go nude in New Jersey than to hang out at these resorts. In addition to these resorts, you can find more nudist resorts in nearby New York, Pennsylvania, and Delaware.
Rock Lodge Club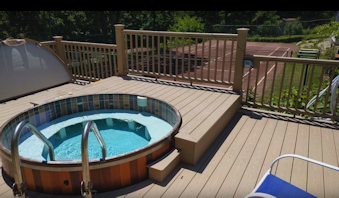 Rock Lodge Club
119 Rock Lodge Rd,
Stockholm, NJ 07460
(973) 697-9721
https://www.rocklodge.com/
This New Jersey nudist resort is an excellent family-orientated naturist spot. Rock Lodge Club is a beautiful 145-acre naturist club that is focused around a spring-fed lake.
This means that this is a nonsexual spot that is open to families including children. So this place is not a swinger lifestyle-friendly park.
Please keep in mind that nudity is required in certain areas such as the hot tub, sauna, and lake. The club is clothing optional in other areas.
If you are looking for a family-friendly naturist spot in New Jersey then you probably can't do much better than this place. Rock Lodge Club receives great reviews from users with most saying that they plan to return.
The amenities at Empire Haven include:
Fitness Room
Sauna
Hot Tub
Clay Tennis Court
All Weather Tennis Court
Petanque
Horseshoes
Volleyball Court
Pickle Ball Court
Fitness Room
Beautiful, Spring-fed Lake
Row Boats
Paddle Boat
"Sunfish" – Our Small Sailboat
Kayaks
Ping Pong Table
Piano
Flat Panel 55″ Screen Cable TV w/DVD player
Wi-Fi
Biking Trails
Hiking Trails
Weekday visitation is limited to club members only. Non-members can visit on weekends but must fill out a visit request form online at their website before visiting. The day fee for visitors is $45 per day for adults (children under 18 are free). There is a maximum of 4-day visits for nonmembers before membership is required.
The membership fees for the Rock Lodge Club are $560 for full membership and $160 for associate membership. The full membership entitles you to unlimited free visits and the associate membership gets you unlimited visits at $35 per day. There are some other benefits to membership that you can find on their website.
Rock Lodge Club does not have camping or RV sites but they do have a limited number of room rentals. The room rates vary from as low as $30 per night up to $100 per night. Room rentals do not include your day fees.
Sky Farm Inc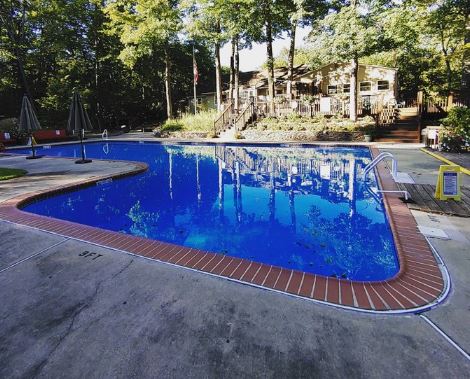 177 Allen Rd,
Basking Ridge, NJ 07920
(908) 419-5443
https://www.skyfarm.com/
Another popular entry among New Jersey nudist resorts is Sky Farm. This is a highly rated members-only family-friendly naturist spot located in Basking Ridge, NJ. Amazingly this spot has been operating since 1932 making it the country's oldest naturist community.
Sky Farm is open from May to October for nudist fun. Amenities include Heated Pool, Hot Tub, Sauna, Kids Playground, Tent Camping, Free WIFI, Lodge rooms, Clubhouse, Large Sun Lawns, Nature Trails, Volleyball, Tennis, Nude Yoga, Pétanque, Themed Dinners, and Pool Parties.
Nudity is required at the pool and hot tub areas but Sky Farm is clothing optional in the other areas.
You do need a membership in order to visit Sky Farm. You can arrange to take a tour of the location to check it out before applying for membership. Tour requests can all be done through their website.
There are 60 cabins available for members to rent on their stays at Sky Farm.
Goodland Country Club
Hackettstown, NJ,
(908) 850-1300
http://www.goodlandcc.com/
This is another one of the New Jersey nudist resorts with extremely good reviews from its visitors. This is a family-friendly naturist club that is located on 37 acres with a ton of amenities. They are open 7 days a week from Memorial Day through September.
A list of amenities includes:
Swimming Pool
2 whirlpools
2 Saunas
Hot & Cold Outside Showers
Picnic Area overlooking the Pool
Volleyball
Badminton
Shuffleboard
Ping Pong
Basketball
Billiards
Cable Television in the Recreation Hall
Cabins
Trailer and Camp Sites are available by the night, week, or season
Nudity is required at the pool, sauna, and whirlpools but is optional in all other areas.
Daily admission is $40 on weekdays and $50 on weekends. There are seasonal memberships available as well.
Cabins are available from $70 – $90 per night. Additionally, there are campsites and RV sites available at different rates.
New Jersey Nudist Groups
There are no active New Jersey nudist groups but you may find some in the neighboring states. There is also the national American Association for Nude Recreation.
American Association for Nude Recreation
1703 North Main St. Suite E
Kissimmee, FL 34744
Phone: 800-879-6833
https://www.aanr.com
This national organization offers tons of information for nudists/naturists in the USA. Membership also gets you discounts at many nudist locations.
The Other Type of Nudists: Swingers in New Jersey
When someone is looking for New Jersey nudist resorts, it is important to take into account what you are looking for. A traditional naturist nudist resort is a completely different experience from a swinger clothing optional resort. Going to the wrong type may lead to some unexpected surprises for you.
In a nutshell, naturists nudists look at nudity as a natural state of being that is not tied to sex. Therefore these places can be family-orientated and sexual activity is not encouraged or allowed. Swingers look at nudity as being totally about sexuality. Sexual activity is allowed and encouraged.
You can read Naturist or Swinger Nude Resorts and Beaches for details on the difference.
You will find that nude beaches and nudist resorts tend to be geared towards naturists. Swinger resorts are definitely for the swingers.
This article is geared towards New Jersey nudist resorts but if you are more interested in the swinger experience you can check out New Jersey Swinger Clubs and Swinger Resorts.