My wife and I have been making visits to nude beaches and nudist resorts for a few years now. We enjoy these trips but are always looking for new spots to go to and let it all hang out. We put this article together to answer the question "What are the top 7 Florida nude beaches?"
Florida offers both official and unofficial nudist beaches. These are the best and most plentiful nude beaches on the east coast and probably in the whole country. In addition to Florida nude beaches, there are many additional options for Florida nudists to take it all off.
So now let's take a look at what is available for Florida nude beaches along with all of the other opportunities for Florida nudists in the Sunshine State. Florida is our favorite place to go and enjoy life in the buff.
The Top 7 Florida Nude Beaches
The table below has a general listing of the Florida nude beaches:
If you are really looking to try out a Florida nude beach, I really suggest that you try out Haulover Beach, Playalinda Beach, and Apollo Beach. These three are considered to be among the top public nude beaches in America. The beaches are beautiful and usually well populated by sunbathers.
Florida is also the home of a number of different nudist resorts that offer an alternative way to spend time in the nude. With the resorts, you often have much easier access to amenities like food service, restrooms, and many other creature comforts.
For more information, see the Florida Nudist Resorts Section.
Florida Nudist Beach List
Below are the individual listings of the Florida nude beaches. A big thing to consider is whether the beach is a legal public nude beach or a non-sanctioned nude beach.
While many of the non-sanctioned nude beaches are widely used and generally considered safe, you still run the risk of running into legal trouble for going nude. You need to use your own judgment to determine how comfortable you are going nude there.
Personally, I would much rather go to a legal public Florida nude beach or a Florida nudist resort and not risk any legal trouble. Especially, in a state like Florida where you have so many legal options.
Haulover Beach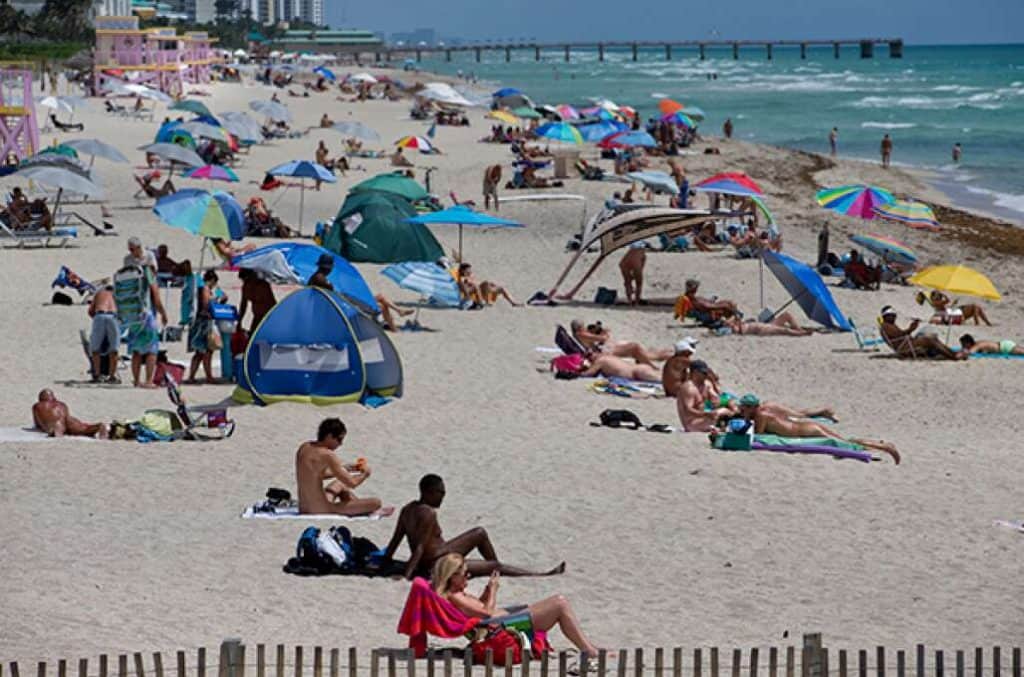 Maybe the best-known nude beach in the USA, Haulover Beach has over a million visitors per year. This is a 1.5-mile-long beach just north of Miami. The northern 0.4 miles of the beach is clothing optional and allows for nude beachgoers.
When you think of a nude beach, this is what you are probably thinking about. This one is a must-visit if you are in the Miami area.
This beach has restrooms, parking, and a ton of amenities. Concessions are also available for food/drinks, beach chairs, and umbrella rentals. This is a publicly sanctioned nude beach so it is perfectly legal to be nude here.
Playalinda Beach
Playalinda Beach is located on the southern end of the Cape Canaveral Seashore. The nude section is Beach #13 which is at the end of the park road. Each beach section has its own small parking spot but this one fills quickly and you may have to park at other lots and walk.
This is a very highly rated nude beach. Brevard County where this beach is located does have laws against nudity but these have not been enforced on this beach in some time. The nudity on this beach has been accepted without incident for about two decades.
Amenities are slightly limited with each parking lot having a restroom but no running water.
This nude beach is rated as a very good nude beach and is usually fairly crowded.
Apollo Beach
Apollo Beach is located on the northern end of the Cape Canaveral Seashore. The nude section is Beach #5 which is the last beach on the road. There is a small parking lot here with a restroom. There are no other amenities for this location.
This is a very pristine beach location that is well known and appreciated for its beauty as well as nudity.
Volusia County where this beach is located has no laws against public nudity so you can enjoy the beach without fear.
Blind Creek Beachside
Blind Creek Beach is located on the Atlantic coast. This beach is located in Fort Pierce, Florida which is about 125 miles north of Miami.
This is another highly rated nude beach that has plenty of public parking and easy access. There are not a lot of other amenities with just some portable toilets in the parking lot and food/drink options limited to food trucks that may show up in the parking lot.
You do not need to worry about going nude at this beach. Nudity at this beach is legal as the St. Lucie County Commissioners designated this beach as an official clothing-optional beach.
Honeymoon Island
Honeymoon Island State Park is a non-sanctioned nude beach. This means that it is technically illegal to go nude here. Although it may be generally accepted, you could get in trouble for going nude here.
This location does have all the amenities that you would expect to find in a state park. There are restroom facilities and parking areas.
Located north of the Tampa/Clearwater area this state park does occasionally host officially sanctioned events with nudity. This is the exception and not the rule. Local nudists are pushing to have an officially sanctioned nude beach area added to this park.
Boca Chica Beach
Boca Chica Beach located in the Keys is another non-sanctioned nude beach. Since it is technically not legal to be nude here, you go naked here at your own risk.
This is mostly an abandoned beach located off Boca Chica Road. Go to the end of the road to find the nude section about 3.5 miles off the main road. The beach areas are fairly secluded and enjoyed by many nude sunbathers.
Bunche Beach Preserve
Bunche Beach Preserve is located in Fort Myers, Florida. Though it is common to find nude sunbathers here, it is still not a sanctioned nude beach so do so at your own risk.
Many people use this beach for kayaking and paddle boarding due to the large number of creeks in the area. Parking and restrooms are on site.
Florida Nudist Resorts
A great alternative to nudist beaches in Florida is the many different nudist resorts. Florida is home to a great selection of nudist resorts. There are a few advantages and disadvantages of nudist resorts as opposed to nudist beaches.
The main advantage of nudist resorts is that you have easy access to drinks, food, and restroom facilities. You also usually have a pool and hot tub access which many prefer over swimming in the ocean.
Another advantage is that you can pick a resort that fits your choice of lifestyle. If you are a naturist, you can pick a naturist resort. If you are into the swinger lifestyle, then you can pick a swinger lifestyle resort. If you are completely into the nudist lifestyle, you can do that.
For more information on naturist and swinger lifestyle resorts be sure to check out Naturist or Swinger Nude Resorts and Beaches.
An example of a great Florida naturist nudist resort would be the Lake Como Nudist Resort.
For information on the top swinger lifestyle resorts in Florida, check out the Top 5 Florida Swinger Lifestyle Resorts.
The two main disadvantages of nudist resorts, when compared to nudist beaches, are the cost and the view. Nudist resorts have costs and memberships associated with them that you will not find with public nudist beaches. Also, Florida nudist resorts are not located right on the beach so you do not get that beach view and feeling.
This makes it a matter of preference for the visitor. While we enjoy checking out the Florida Nudist Beaches, we generally prefer our visits to the swinger lifestyle resorts and nudist resorts.